Ethics Matters
November 2018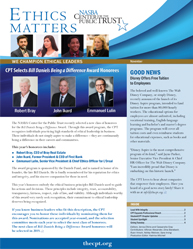 StudentCPT Alumni Spotlight: Sean Perera, CPA
While obtaining an accounting degree from Baruch College's Zicklin School of Business, Sean Perera was one of the founding members and secretary of Baruch's StudentCPT chapter, helping facilitate the initial club registration process, becoming a collaborator with
the Baruch Accounting Society and Beta Alpha Psi, and much more. Fast forward, Sean has been an invaluable team member of Deloitte for more than five years.
Tell us a little bit about yourself, including your background and your journey to where you are today. In 2017, I came to the United States from Sri Lanka. First, I went to LaGuardia Community College and graduated with an Associate of Science degree. Then, I transferred to Baruch College for my bachelor's in accounting. I graduated from Baruch College in 2013 and started my career at Deloitte. Currently, I serve clients in the financial services industry, specializing in real estate.
How was your StudentCPT chapter formed? I had the opportunity to speak with CPT President, Alfonzo Alexander, during my time at Baruch College. Alfonzo was thinking of starting a new chapter at Baruch, and I was interested in getting involved.
Have you noticed a difference in your sense of confidence to handle any situation, in terms of your career, compared to your colleagues who have not received the same CPT training? Absolutely! Trust is the most important thing in my career and having learned how to maintain that trust is something I use most. I feel an increased sense of confidence. Now, data security is so important, but five years ago it wasn't something of concern. I really felt like I had a jump start on trust and confidentiality as it became more relevant, and I felt more prepared because I had this training.
Would you recommend future leaders attend the StudentCPT Leadership Conference? If so, why? Definitely! It's important we learn early-on about trust. Unfortunately, they just don't have that in school today. Maintaining the client's trust has a huge impact on business, and that wasn't the primary focus of our school curriculum. It's important to learn about trust early-on, and when I was interviewing with employers, being a part of the StudentCPT gave me the confidence to ask them about the types of programs their company had in place to train people about trust. In my profession, you must maintain client trust because you handle client data and information. It's important the firm and clients trust you with that information. And it's important for clients to trust auditors so they can engage in meaningful dialogue about any issues that arise.
What would you say to potential supporters, who are thinking about making a contribution to the CPT? This is the best program to help prepare students for future challenges. Very few programs in school cover trust and ethics. Hacking, fraud, are all done by smart people who just don't have the right value system.
View the full interview with Sean by visiting thecpt.org.