Ethics Matters
November 2018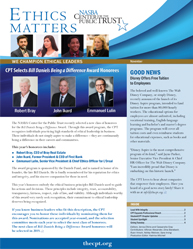 The beloved and well-known The Walt Disney Company, or simply Disney, recently announced the launch of its Disney Aspire program, intended to fund tuition for more than 80,000 hourly workers. The educational options for employees are almost unlimited, including vocational training, English-language learning and bachelor's and master's degree programs. The program will cover all tuition costs and even reimburse students for educational expenses, such as books and other materials.
"Disney Aspire is the most comprehensive program of its kind," said Jayne Parker, Senior Executive Vice President & Chief HR Officer for The Walt Disney Company. "I am incredibly proud that Disney is embarking on this historic launch."
The CPT loves to hear about companies that empower their employees. Have you heard of a good news story lately? Share it with us at info@thecpt.org.