Ethics Matters
November 2018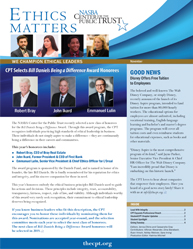 The NASBA Center for the Public Trust recently selected a new class of honorees for the Bill Daniels Being a Difference Award. Through this award program, the CPT recognizes individuals practicing high standards of ethical leadership in business.These individuals do not simply aspire to make a difference – they are continuously being a difference in their careers and communities.
This year's honorees include:
 -Robert Bray, CEO of Bray Real Estate
-John Ikard, Former President & CEO of First Bank
-Emmanuel Lulin, Senior Vice President & Chief Ethics Officer for L'Oreal
The award program is sponsored by the Daniels Fund, and is named in honor of its founder, the late Bill Daniels. He is fondly remembered for his reputation for ethics and integrity, and his sincere compassion for those in need. This year's honorees embody the ethical business principles Bill Daniels used to guide his actions and decisions. These principles include integrity, trust, accountability, transparency, fairness, respect, rule of law, and viability. Although individuals worthy of this award very rarely seek recognition, their commitment to ethical leadership deserves being recognized. If you know business leaders who fit this description, the CPT encourages you to honor these individuals by nominating them for this award. Nominations are accepted year-round, and the selection committee meets each year to select the next class of honorees. The next class of Bill Daniels Being a Difference Award honorees will be selected in 2019.