Ethics Matters
Fall 2018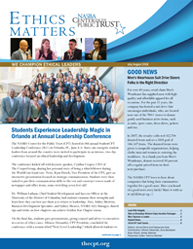 G. Alan Long, CPA, CITP, CGMA, is the managing member of Baldwin CPAs, PLLC, in Richmond, KY, and a longtime supporter of the NASBA Center for the Public Trust (CPT). As a former board member and current associate member of the Kentucky State Board of Accountancy, Long stated that his involvement at NASBA Regional and Annual Meetings introduced him to the work of the CPT. He saw the impact the StudentCPT program had on future leaders in the accounting profession and decided it was time to give back to the profession that has given so much to him.
"Students are the future of the profession," Long said, when describing his motivation to support the CPT. As an appointed leader, Long also sees it as his obligation to lead by example and give back. He hopes this will inspire others in the profession to do so as well.
We thank Long for his continued, generous support of our students and invite you to join him in supporting the CPT. For more information about how to get involved, email info@thecpt.org.