Ethics Matters
Summer 2018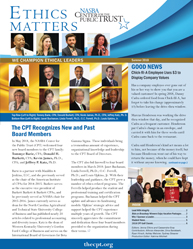 The Sponsor a Leader Campaign provides life-changing leadership and ethics training to high-potential college students through the NASBA Center for the Public Trust's (CPT) annual StudentCPT Leadership Conference (SLC). This conference is made possible by gifts from generous donors—like you!
Vicky Petete, CPA, is the chief financial officer at Vision Bank, NA, a member of the Oklahoma Accountancy Board and an instructor at East Central University. In addition to her busy job, Petete serves on the NASBA Center for the Public Trust (CPT) Board of Directors and is a longtime supporter of the Student Center for the Public Trust (StudentCPT). When asked why she invests in the Sponsor a Leader Campaign, Petete said, "I have personally witnessed the impact the CPT has on students, not only here at East Central University, but also as I have watched with amazement the impact on the students attending the conference each year. Students and individuals hear the word ethics
quite frequently. But many times, truly understanding what it means to act ethically, especially in specific circumstances, may seem confusing or blurred. The CPT provides not only students, but also businesses and individuals the tools to do 'the right thing'."
We thank Petete for her continued, generous support of our students and invite you to join her in sponsoring a leader and changing a life.
Why It Matters
Across the United States, employees and organizations are facing ethical dilemmas on a continuous basis. Unfortunately, good people sometimes make poor decisions because they are unprepared to manage these types of scenarios.
Through the SLC, students learn how to navigate these ethical dilemmas. By investing in SLC attendees, you are investing in future leaders who act with honesty and integrity, while applying high standards of ethical behavior to their daily activities.
Change the life of a future leader by making a gift toward the CPT's Sponsor a Leader campaign.
By Sponsoring a Leader, you are providing scholarships to 60 outstanding college students who attended the 8th Annual StudentCPT Leadership Conference, June 4-6, in Orlando, FL.