Ethics Matters
Summer 2018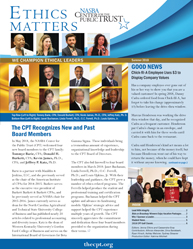 In May 2018, the NASBA Center for the Public Trust (CPT) welcomed four new board members to the CPT family: Tommye Barie, CPA; Donald H. Burkett, CPA; Kevin James, Ph.D., CPA; and Jeffrey P. Katz, Ph.D.
Barie is a partner with Mauldin & Jenkins, LLC, and she previously served as the chair of the American Institute of CPAs for 2014-2015. Burkett serves as the executive vice president of Burkett Burkett & Burkett CPAs, and he previously served as NASBA chair for 2015-2016. James currently serves as dean for the North Carolina Agricultural and Technical State University College of Business and has published nearly 20 articles related to professional accounting and diversity issues. Katz is the dean of Western Kentucky University's Gordon Ford College of Business and serves on the International Board of Governors for Beta Gamma Sigma. These individuals bring a tremendous amount of experience, organizational knowledge and leadership to the CPT Board of Directors.
The CPT also bid farewell to four board members in March 2018: Janet Buchanan; Linda Ferrell, Ph.D.; O.C. Ferrell, Ph.D.; and Louis Upkins, Jr. With their leadership and guidance, the CPT grew a number of ethics-related programs. The Ferrells helped produce the student and professional training and certification programs. Buchanan helped the CPT update and advance its fundraising models. Upkins' strategic advice and support helped the CPT experience multiple years of growth. The CPT sincerely appreciates the commitment and dedication these four board members provided to the organization during
their terms.