Ethics Matters
Summer 2018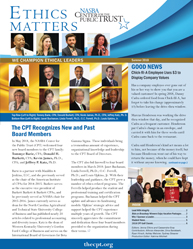 Has a company employee ever gone out of his or her way to show you that you are a valued customer? In spring 2018, Danny Cadra ordered food from Chick-fil-A, but forgot to take his change (approximately $3) before leaving the drive-thru window.
Marcus Henderson was working the drive thru-window that day, and he recognized Cadra as a frequent customer. Henderson put Cadra's change in an envelope, and carried it with him for three weeks until Cadra came back to the restaurant.
Cadra said Henderson's kind act means a lot to him, not because of the money itself; but because Henderson went out of his way to return the money, when he could have kept it without anyone knowing. Henderson's display of integrity reflects the sentiment of Chick-fil-A's founder, Truett Cathy, who said, "We should be about more than just selling chicken. We should be a part of our customers' lives and the communities in which we serve."
The CPT commends Chick-fil-A on creating an environment that encourages its employees to exhibit ethical behavior.