Ethics Matters
Summer 2018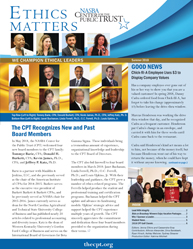 The NASBA Center for the Public Trust's(CPT) 2017 Bids on Broadway fundraising event was just the beginning of the fun for attendees. In addition to raising more than $35,000 for CPT programs, winning bidders won some great prizes! Some of the most popular prizes included tickets to the NCAA Men's Final Four Basketball Championship, a New Year's Eve package at the New York Marriott Marquis and an exclusive golf outing in Nashville, TN.
NASBA Vice Chair, Janice Gray, won tickets to the Men's Final Four. Of the experience, she said, "[My husband] Rodney and I had a wonderful time at the Final Four. We enjoyed the company of Kent and Dee Smoll and Alfonzo Alexander! The atmosphere was very energetic, the music was great and the games were great!"
Nancy Whipp, retired CEO of the Chartered Professional Accountants of New Brunswick, was the winning bidder for the Nashville golf outing. She and her husband enjoyed two days on the green at The Governors Club and Westhaven Golf Club with CPT Board Chair,David Costello, and CPT President, Alfonzo Alexander. Whipp said, "The courses were breathtaking and very challenging, but our hosts made it a really fun time and treated us like king and queen. This was certainly a winwin situation for all. We got to play two great days of golf in very good company at beautiful courses while helping the CPT with its mandate. We would encourage all to support this great organization."
Perhaps the most highly sought-after auction item went to Nevada State Board of Accountancy member, Nicola Neilon, who walked away with a New Year's Eve package in Times Square. Neilon and her husband had a blast ringing in the new year at the New York Marriott Marquis' exclusive New Year's Eve party.