Ethics Matters
March – April 2018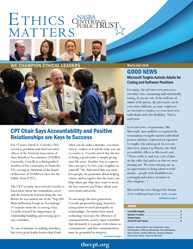 Lipscomb Hosts Panel Focused on #MeToo Movement
The Lipscomb University StudentCPT Chapter hosted a panel discussion focused on the #MeToo movement. They analyzed both the legal and ethical ramifications of sexual harassment in the workplace with legal and ethics experts from the university. Through this discussion, students learned how to avoid using language, gestures and technology in ways that could be deemed offensive or inappropriate to coworkers.

Minnesota State Mankato StudentCPT Rocks the RSO Fair
The Minnesota State University – Mankato StudentCPT Chapter participated in the Spring Registered Student Organization (RSO) Fair. A whopping 300 students and faculty were in attendance, as chapter leaders shared information about the chapter program and their upcoming fundraiser at Chipotle. This chapter is in its first year of operation, and these types of recruitment fairs are helping them continue to grow their membership base.
UNM Students Learn Life Lessons from Alumnus
StudentCPT members and Daniels Fund Scholars at the University of New Mexico (UNM) were recently treated to a captivating lecture from UNM alumus, Humble Lukanga. Lukanga shared how he overcame the challenges he faced in Uganda, where he was surrounded by poverty and genocide. Today, he is a successful life coach and financial advisor, and he attributes his success to maintaining a high standard of conduct.
Truman State Drives Home the Importance of Ethical Decisions
The StudentCPT chapter at Truman State University recently hosted an interactive ethics discussion, featuring the NASBA Center for the Public Trust Operations Director, Ryan Hirsch. Approximately 25 students attended this meeting, where they learned about psychological factors that can influence their decisions. Students also engaged in lively debates about ethics in the auto-manufacturing and human resources industries. Truman State is in its first year of chapter operation and is poised to continue growing and developing ethical leaders in the future.