Ethics Matters
March – April 2018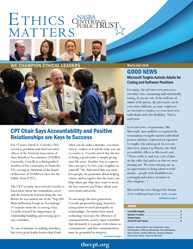 For many, the job interview process is stressful, time consuming and emotionally taxing. If you are one of the millions of adults with autism, the job search can be even more difficult, as some employers are hesitant to employ, or even interview, individuals with this disability. That is until now.
In recent news, corporations, like Microsoft, have publicly recognized the tremendous strengths autistic individuals possess and have expressed an eagerness to employ this talent pool. In a recent interview, Jenny Lay-Flurrie, the chief accessibility officer at Microsoft said, "There really is, and was, a lot of data on the table that said to us that we were missing out. We were missing out on an opportunity to bring talent in with autism…people with disabilities are a strength and a force of nature in this company…"
Microsoft has even changed the format of its traditional interview style, to put candidates at ease. The vetting process lasts for several weeks and includes various exercises.
The NASBA Center for the Public Trust (CPT) commends Microsoft for being inclusive and recognizing the unique strengths and skills of these individuals.
Have you heard of a good news story lately? Share it with us at info@thecpt.org.