Ethics Matters
January – February 2018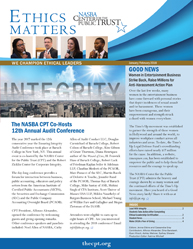 The year 2017 marked the 12th consecutive year the Ensuring Integrity Audit Conference took place at Baruch College in New York, NY. This annual event is co-hosted by the NASBA Center for the Public Trust (CPT) and the Robert Zicklin Center for Corporate Integrity.
The day-long conference provides a forum for interaction between business, public accounting, educators and policy setters from the American Institute of Certified Public Accountants (AICPA), the Securities and Exchange Commission (SEC) and the Public Company Accounting Oversight Board (PCAOB).
CPT President, Alfonzo Alexander, opened the conference by welcoming guests and giving opening remarks. Other conference speakers and panelists included: Noel Allen of NASBA, Cathy Allen of Audit Conduct LLC, Douglas Carmichael of Baruch College, Robert Colson of Baruch College, Kim Gibson of Grant Thornton, Diana Henriques author of The Wizard of Lies, H. Fenwick Huss of Baruch College, Robert Lack of Friedman Kaplan Seiler & Adelman LLP, Claudius Modesti of the PCAOB, Marc Panucci of the SEC, Martin Racek of Deloitte & Touche, Jennifer Rand of the PCAOB, Thomas Ray of Baruch College, Mike Santay of ASB, Mohini Singh of CFA Institute, Scott Univer of Mazars USA LLP, Miklos Vasarhelyi of Rutgers Business School, Michael Young of Willkie Farr and Gallagher and Megan Zietsman of the IAASB.
Attendees were eligible to earn up to eight hours of CPE. Are you interested in attending the 2018 conference? Email info@thecpt.org.