Ethics Matters
January – February 2018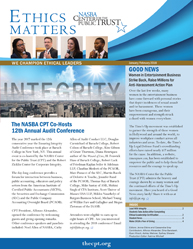 Dr. Latham Leads Students to Strength Success at Belmont
During the fall 2017 semester, Dr. William Latham, Chief Student Development and Success Officer at the University of the District of Columbia, led a group session at a Belmont StudentCPT chapter meeting. Students were invited to explore their strengths through a StrengthsQuest assessment and learn how to maximize their strengths in their daily lives. Representatives from the Lipscomb StudentCPT chapter also attended the event.
Birmingham Southern Hosts "Study Break"
The Birmingham Southern StudentCPT chapter members invited their peers to join them for a "Study Break" during finals week. Students were treated to doughnuts and refreshments during the event, and they learned about the benefits of joining the StudentCPT.
Rutgers Shines Light on Ethics
Rutgers StudentCPT members were invited to hear from NASBA CPT President, Alfonzo Alexander, and New Jersey CPA, Ainsley Reynolds, in an interactive panel discussion focused on ethics in the CPA profession. Ralph Thomas, CEO and Executive Director of the New Jersey Society of CPAs, was also in attendance. Students also learned about the CPA Exam and how to obtain licensure.