Ethics Matters
January – February 2018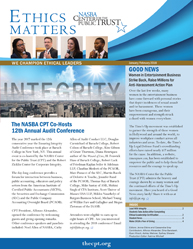 Over the last few weeks, many women in the entertainment business have come forward with personal stories that depict incidences of sexual assault and/or harassment. These women have been courageous, and their empowerment and strength struck a chord with women everywhere.
The Time's Up movement was established to garner the strength of these women in Hollywood and around the world, to improve workplace conduct across all industries and areas. To date, the Time's Up Legal Defense Fund's crowdfunding efforts have raised nearly $17 million for the cause. In addition, a website, timesupnow.com, has been established to empower the public and to help them find resources and the courage to speak up.
The NASBA Center for the Public Trust (CPT) admires the bravery and courage shown by so many women and the continued efforts of the Time's Up movement. Have you heard of a Good News story lately? Share it with us at info@cpt.org.