p align="left">
Ethics Matters
September – October 2017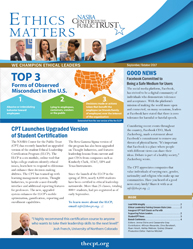 CPT Launches Two New StudentCPT Chapters
In September, the CPT welcomed two new schools into the StudentCPT family. The CPT staff is excited to work with student leaders at Truman State University (Kirksville, MO) and the University of Mount Olive (Mount Olive, NC). The CPT is grateful to Barton Baldwin and others who helped generate support for the establishment of these chapters. The support of these individuals and organizations helps make a lasting ethical impact on campuses and communities alike.
CPT President Visits Texas A&M and MSU
CPT President, Alfonzo Alexander, recently spoke to several ethics classes at Texas A&M University and Michigan State University about the importance of ethical leadership now and later in careers. Students were given tips on how to be an ethical leader, analyzed the RAISE Model and dissected several ethics cases.
SEMO Shines in Ethics
CPT team members, Ryan Hirsch and Sydney Shearer, recently visited the StudentCPT chapter at Southeastern Missouri State University. Nearly 20 students were enlightened with an interactive ethics presentation that demonstrated why good people can sometimes make bad decisions. Hirsch and Shearer empowered these student leaders by teaching them strategies for overcoming pitfalls in their careers, so they can make positive decisions that align with their values.
UNCO Students Tackle Ethics in Accounting and Fashion
More than 50 students from the University of Northern Colorado StudentCPT chapter recently attended an engaging ethics workshop, which was led by the CPT's Operations Director, Ryan Hirsch. During this meeting, students examined strategies for navigating ethical dilemmas in the accounting and clothing manufacturing industries. Chapter leaders also shared their experiences from the StudentCPT Leadership Conference and encouraged other students to join the chapter.