Ethics Matters
September – October 2017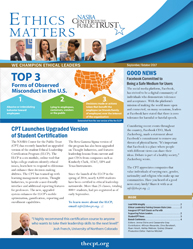 In July, the NASBA Center for the Public Trust (CPT) hosted its inaugural CPT Golf Classic at The Governor's Club in Brentwood, TN. Nearly 60 participants enjoyed a day of golf at the beautiful, private course while learning more about CPT programming and sponsors.
With the help of the CPT's generous donors and participants, the CPT raised enough funds to provide life-changing leadership and ethics training for college students in Middle Tennessee and across the United States. Through StudentCPT chapter programming, the annual StudentCPT Leadership Conference, and Ethics in Action Video Competition, college students will learn about the necessary tools needed to become leaders who act with honesty and integrity throughout their careers.
The CPT looks forward to growing this event in 2018. Next year's CPT Golf Classic will be held on July 16, 2018, at the Governors Club in Brentwood, TN. See you on the green!