Ethics Matters
September – October 2017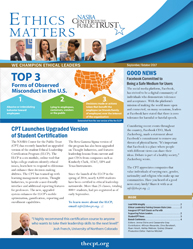 The NASBA Center for the Public Trust (CPT) has recently launched an upgraded version of the student Ethical Leadership Certification Program (ELCP). The ELCP is a six-module, online tool that helps college students identify ethical issues, learn how to respond to dilemmas and enhance their decision-making abilities. The CPT has teamed up with learning management system, Thought Industries, to provide a user-friendly interface and additional reporting features for professors. The new, upgraded system enhances the ELCP's mobile optimization, gamification, reporting and enrollment capabilities.
The Beta Gamma Sigma version of the program has also been upgraded on Thought Industries, and features leadership lessons from current and past CEOs from companies such as Kimberly Clark, AT&T, UPS and Texas Instruments.
Since the launch of the ELCP in the spring of 2014, nearly 4,000 students have been certified in ethical leadership nationwide. More than 25 classes, totaling 800+ students, had pre-registered as of early September.
To learn more about the ELCP, email info@thecpt.org.