Ethics Matters
May-June 2017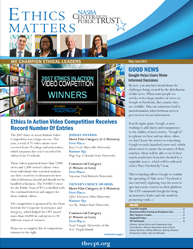 CPT Welcomes Two New StudentCPT Chapters
Students at Valdosta State University and the University of Delaware recently started StudentCPT chapters and expressed their commitment to being ethical leaders.
On April 11, Ryan Hirsch hosted an interactive StudentCPT chapter kickoff meeting with students at the University of Delaware. Students discussed how they would respond to a series of ethical dilemmas, while Hirsch explained the pros and cons of each response. This chapter is sponsored by Deloitte and represents the CPT's first student chapter in Delaware.
On April 13, Alfonzo Alexander warmly welcomed Valdosta State University into the StudentCPT family, by speaking with students about the importance of making ethical decisions early in their careers. This chapter is sponsored by Nichols, Cauley & Associates, who also invested their time by having multiple representatives attend this meeting.
Lipscomb Presents Campus BADA
The StudentCPT honored Lipscomb student, Matt Gibson, and Lipscomb faculty member, Rob Touchstone, with Campus Being a Difference Awards on April 18. Matt and Rob were both quoted by Chapter Advisor, Natasha Johnson, as being "difference makers," both on and off campus. Congratulations to Matt and Rob!
Belmont StudentCPT Leaders Host Event with Nashville Mayor, Megan Barry
On March 26, StudentCPT Officers, Katie Canfield and West Bielstein, facilitated a conversation with Belmont University students and Nashville Mayor Megan Barry around the topic of ethics in her career. Mayor Barry emphasized that having power means you have an opportunity and responsibility to positively impact the lives of others.
Servant Leadership Starts Early
Part of being an ethical leader is understanding that true leadership starts with serving others. Members of the Colorado Mesa StudentCPT recently collected and delivered
boxes filled with food and personal hygiene supplies for the HomewardBound of Grand Valley Homeless Shelter in Grand Junction, CO.
The CPT commends these student leaders for being a difference in the lives of others in their local community. This commitment to serving others lays a strong foundation for their future career success.
> Read Full May – June 2017 Ethics Matters
——