Ethics Matters
May-June 2017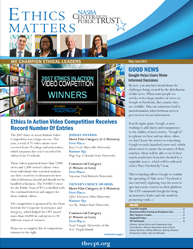 Since its official launch in May of 2016, the NASBA Center for Public Trust
(CPT) Professional Ethics Training
and Certification Program has been
developing ethical leaders across a
variety of disciplines nationwide.
After seeing the value of the training,
the Missouri Board of Accountancy worked with the CPT to create a modified version of the program, which is being used to reinforce the ethical principles that are needed to enhance the ethical decision-making skills of the Board's licensees.
In December 2016, the program was introduced as part of a disciplinary process for Missouri CPAs with ethics infractions. This online training program contains three, one-hour modules,
and participants are required to pass
each section with a score of 100
percent before they can move on to
the next section.
Since the program allows for customization options, the Missouri Board also included an introduction video from their leadership, explaining the intended goals and purpose of this training. CPAs who are assigned this training as part of a disciplinary action do not receive Continuing Professional Education credit, they complete it
solely to meet the requirements of the Board ruling.
The CPT is currently in discussions with other boards to explore the best options for incorporating this training into their disciplinary actions as well. The CPT team is available to provide demos to show how this program can best fit
the need of your board or company.
To learn more, contact Sydney Shearer
at info@thecpt.org.