Ethics Matters
March – April 2017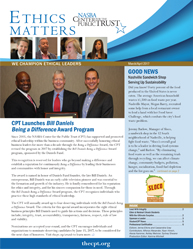 UAB Kicks Off the New Year with Alabama's 2nd StudentCPT Chapter
On January 23, University of Alabama, Birmingham became the newest chapter of the StudentCPT family. Twenty-nine (29) students attended the kick-off meeting, which was led by Ryan Hirsch and Ashley Metivier who discussed the importance of ethical leadership in an interactive, thought-provoking presentation. Students learned what they can expect to experience as a participant of the StudentCPT Chapter program, and also enjoyed a catered dinner and fellowship with professors and CPT staff.
StudentCPT Launches First Chapter in the U.S. Virgin Islands
On February 25, the CPT kicked off the University of the Virgin Islands StudentCPT chapter in St. Thomas, VI. CPT President, Alfonzo Alexander, spoke to students about ethical dilemmas they may face early in their careers, and provided them with tips forovercoming these challenges. The CPT is proud of the enthusiastic and energized leaders for getting the chapter up and running.
Colorado Mesa StudentCPT Hosts Ethics Lecture Series
On February 8, Colorado Mesa's StudentCPT Chapter hosted an Ethics Lecture Series, featuring CPT President, Alfonzo Alexander. Alexander spoke to nearly 100 students about the importance of navigating ethical dilemmas early in their careers.
Alexander Speaks to UNM Students about Ethical Leadership
CPT President, Alfonzo Alexander, recently spoke to classes at the University of New Mexico (UNM) about the importance of leading with integrity and ethical decision-making skills. This presentation helped reinforce information UNM students are learning in their courses offered through the CPT's Ethical Leadership Certification Program.
> Read Full March – April 2017 Ethics Matters