Ethics Matters
March – April 2017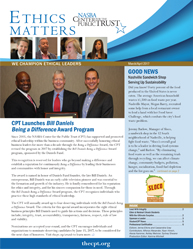 "Education is the most powerful weapon, which you can use to change the world."
– Nelson Mandela
Students from Summit Academy Charter School in Brooklyn, NY, were recently surprised to learn they were awarded college scholarships. Walmart teamed up with the Ellen DeGeneres Show to give 42 deserving high school seniors full rides to any state university in New York. The scholarship is enough to cover tuition costs for four years.
The Summit Academy is in the Red Hook neighborhood of Brooklyn where only four percent of adults hold college degrees. Last year, 93 percent of the school's graduating class attended college, and this year, the seniors are aiming to have 100 percent of their class attend college. With this generous monetary gift, the Summit Academy seniors are well on their way! Over 80 percent of the 2017 class has already been accepted to colleges, so far.
The NASBA Center for the Public Trust (CPT) encourages other organizations to explore opportunities on how they can invest in future leaders.
> Read Full March – April 2017 Ethics Matters
Tags:
Ellen DeGeneres
,
Walmart