Ethics Matters
January – February 2017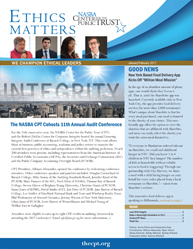 With the start of 2017, you may be hard at work on your new year resolutions. Whether you are planning to get in shape, read more books or advance your career, it is important to make resolutions that will make an impact. In 2017, the NASBA Center for the Public Trust (CPT) invites you to amplify the impact of your resolutions by pledging your year-round support to the CPT.
By setting up a recurring donation, you have the opportunity to invest in the development of young leaders who think and act with honesty and integrity, and apply high standards of ethical behavior to
their daily activities.
In 2017 the CPT will be launching an all new monthly giving program. For as little as $15 a month you can help us achieve our goal of impacting more than 10,000 students in 2017.
To become a founding member of this giving program and make a meaningful resolution in 2017, email info@thecpt.org or call (615) 312-3834.
> Read Full January – February 2017 Ethics Matters
Tags:
donation
,
resolution