Ethics Matters
January – February 2017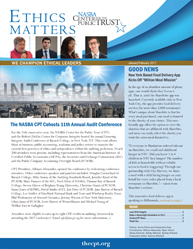 In the age of an abundant amount of phone apps, one would think they'd seen it all. That is, until the Sharebrite app was launched. Currently available only in New York City, the app provides food delivery services for more than 2,000 restaurants. What's unique about Sharebite is that for every meal purchased, one meal is donated to the charity of your choice. This user-friendly app offers the option to view the charities that are affiliated with Sharebite, and users can easily select the charity you want the extra meal donated to.
"If everyone in Manhattan ordered takeout on Sharebite, we could end childhood hunger in NYC. Did you know 1 in 4 children in NYC face hunger? The number of kids in households without reliable access to food is staggering! Through our partnership with City Harvest, we share a meal with a child facing hunger on your behalf for every order placed from a local restaurant on Sharebite," – taken from Sharebite's website.
This innovative food delivery app is speaking to Millennials, and if the tech unicorns (Uber, Airbnb) have taught us anything, it's that speaking fluent Millennial equals making it big in the tech industry. Sharebite has a goal of providing one million meals in one year to its affiliated charities. It will be interesting to see if they reach their goal, and the CPT wishes them the best of luck.
The CPT loves sharing good news. If you have an organization you would like to feature in this section, email: info@thecpt.org.
> Read Full January – February 2017 Ethics Matters
Tags:
Sharebite