Ethics Matters
January – February 2017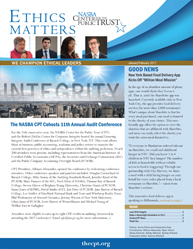 For the 11th consecutive year, the NASBA Center for the Public Trust (CPT) and the Robert Zicklin Center for Corporate Integrity hosted the annual Ensuring Integrity Audit Conference at Baruch College, in New York, NY. This event allows those in business, public accounting, academia and policy setters to examine the current best practices of ethics and independence within the auditing profession. Nearly 200 attendees were present, including representatives from the American Institute of Certified Public Accountants (AICPA), the Securities and Exchange Commission (SEC) and the Public Company Accounting Oversight Board (PCAOB).
CPT President, Alfonzo Alexander, opened the conference by welcoming conference attendees. Other conference speakers and panelists included: Douglas Carmichael of Baruch College, Mike Santay of the Auditing Standards Board, Jennifer Rand of the PCAOB, Marc Panucci of the SEC, Noel Allen of NASBA, Thomas Ray of Baruch College, Steven Glover of Brigham Young University, Christine Gunia of PCAOB, Susan Jones of KPMG, David Simko of EY, Jim Doty of PCAOB, Jane Barton of Baruch College, Lee Seidler of FineMark National Bank and Trust and Winthrop Realty Trust, Phil Wedemeyer of Atwood Oceanics, Jeremy Wiesen of New York University, Liban Jama of PCAOB, Scott Univer of WeiserMazars and Michael Young of
Willkie Farr & Gallagher.
Attendees were eligible to earn up to eight CPE credits in auditing. Interested in attending the 2017 conference? Email info@thecpt.org for more information.
> Read Full January – February 2017 Ethics Matters
Tags:
Ensuring Integrity Audit Conference