Ethics Matters
September 2016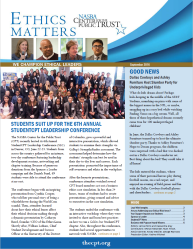 The NASBA Center for the Public Trust (CPT) recently hosted its 6th Annual StudentCPT Leadership Conference (SLC) in Denver, CO, June 22-23. Students from across the country gathered for an intense, two-day conference featuring leadership development sessions, networking and chapter training. Because of generous donations from the Sponsor a Leader campaign and the Daniels Fund, 69 students were able to attend the conference at no cost.
The conference began with an inspiring presentation from Cynthia Cooper, who told her personal story of being a whistleblower during the WorldCom scandal. Then, attendees learned about how their ethical lenses affect their ethical decision-making through a dynamic presentation by Catharyn Baird, founder/CEO of the EthicsGame. Shortly after, William Latham, Chief Student Development and Success Officer at the University of the District of Columbia, gave a powerful and interactive presentation, which allowed students to examine their strengths via Gallup's StrengthsFinder assessment. The assessment helped determine how the students' strengths can best be used in their day-to-day lives and careers. Each presentation promoted the importance of self-awareness and ethics in the workplace.
After the keynote presentations, conference attendees watched several CPT board members act out a business ethics case simulation. In less than 24 hours, teams of students had to create presentations, giving counsel and advice to executives in the case simulation.
The students ended the conference with an interactive workshop where they were invited to share and learn best practices on how to run a Golden Star StudentCPT chapter. Also, throughout the conference, students had several opportunities to network with NASBA members who were in attendance at the 2016 NASBA Western Regional Meeting, which was held at the same location.
The students' professionalism and engagement made a lasting impression on the CPT staff, board members and NASBA members. We cannot wait to see what they will do at their respective campuses this fall and in their future careers!