Ethics Matters
September 2016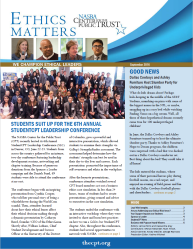 Recently, I saw the benefits of paying it forward first hand. Here is the story. Almost 20 years ago, I was a senior executive at an organization with 53 offices across the United States. During this period, I was responsible for the nine offices in the Southeast. The organization had many talented professionals who went on to do great things. However, a young professional, Jonathan Porter, at the Birmingham office was exceptionally full of potential and promise.
After a staff training session, Jonathan, who was in his mid-20's at the time, came up to me and asked if I would be his mentor. Flattered by the request, I accepted the assignment. During the early years of mentoring Jonathan, we maintained a great relationship and every so often, he called me for advice or to share updates and goals. This relationship began a path for me of embracing the role of mentor for several others. I am confident I have gained as much from these relationships as the mentees themselves as there are mutual benefits both parties gain when a leader decides to pay it forward by mentoring others.
Here is the exciting part. I am telling you this story because Jonathan, who is now a very accomplished executive with one of the largest companies in the state of Alabama, and I recently saw each other. We met at his company where I presented him with the CPT's Being a Difference Award (BADA). Jonathan was nominated by one of his employees, and the BADA selection committee chose him as the final recipient of the award for 2016.
Seeing the impact mentees make while they grow professionally should motivate you to continue to pay it forward. I hope every ethical leader reading this article finds someone to mentor. It truly is rewarding for both individuals. Pay it forward!
— As Always, Lead With Integrity!
Alfonzo Alexander
President, CPT
CRO, NASBA