Ethics Matters
September 2016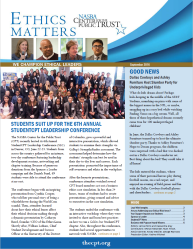 What do kids dream about? Perhaps hula-hooping in the middle of the AT&T Stadium, munching on pizza with some of the biggest names in the NFL, or maybe, snuggling up in a cozy bed while watching Finding Nemo on a big screen. Well, all three of these hypothetical dreams recently came true for 100 underprivileged children!
In June, the Dallas Cowboys and Ashley Furniture teamed up to host the ultimate slumber party. Thanks to Ashley Furniture's Hope to Dream program, the children were surprised with a bed that was decked out in a Dallas Cowboys comforter set. Best thing about the bed? They could take it all home!
The kids entered the stadium, where some of their personal heroes play during football season, on a red carpet, and enjoyed an evening of field games and fun with the Dallas Cowboys football players and cheerleaders.
These two for-profit organizations came together and made a big difference in the lives of 100 impressionable children. The CPT commends the Dallas Cowboys and Ashley Furniture on the outreach and partnership, which resulted in a fun and memorable night for children who need it most.