Ethics Matters
May/June 2016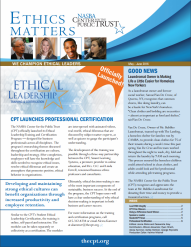 The NASBA Center for the Public Trust (CPT) presented Kevin Y. Brown, of New York, NY, with a prestigious Being a Difference Award on April 30. The award, which honors individuals for their exceptional contributions to ethical leadership, was presented to Brown during the 78th Anniversary celebration of the New York Alumni Chapter of Kappa Alpha Psi Fraternity, Inc.
An award-winning speaker and author, Brown serves as president of Legacy Thinking Labs, a leading public speaking and consulting firm based in New York.
"Mr. Brown's commitment to excellence and tireless dedication to leadership development and mentoring is to be commended," said Ryan Hirsch, CPT Operations Manager. Because of his past and current contributions to the betterment of business and society, he is a deserving recipient of the CPT's Being a Difference Award."