Ethics Matters
May/June 2016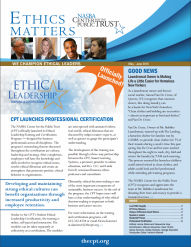 The NASBA Center for the Public Trust (CPT) officially launched its Ethical Leadership Training and Certification Program — designed for business professionals across all disciplines. The program's overarching themes discussed throughout the certification are culture, leadership and strategy. After completion, employees will have the knowledge and skills needed to recognize ethical issues, resolve ethical dilemmas and create an atmosphere that promotes positive, ethical behavior in organizations.
Similar to the CPT's Student Ethical Leadership Certification, the training is online, self-paced and interactive. The modules can be taken separately or collectively as a certification. The modules are interspersed with animated videos, real-world, ethical dilemmas that are discussed by subject matter experts, as well as quizzes to gauge the participant's understanding.
The development of this training was possible through a three-way partnership between the CPT, Savant Learning Systems, a premiere provider in online education, and Drs. O.C. and Linda Ferrell, renowned business ethics professors and consultants.
Ultimately, ethical decision-making is one of the most important components of sustainable, business success. At the end of the program, the CPT hopes users will have a clear understanding of why ethical decision-making is important to both business and career success.
For more information on the training and certification programs, call 615-312-4234 or email Alexia Kammer at akammer@thecpt.org.