Ethics Matters
March/April 2016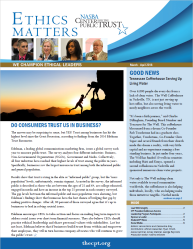 Over 6,000 people die every day from a lack of clean water. The Well Coffeehouse in Nashville, TN, is not just serving up hot coffee, but also serving living water to needy neighbors across the world.
"It's been a faith journey," said Charlie Dillingham, Founding Board Member and Treasurer for The Well. This coffeehouse blossomed from a dream Co-Founder Rob Touchstone had in a graduate class. Together, Touchstone, Co-Founder Chris Soper and several friends from their church made this dream a reality, with very little capital and no experience running a free standing business. In just under four years, The Well has funded 10 wells in countries including Haiti and Kenya, opened a second coffeehouse in Nashville and sponsored numerous clean water projects.
Not only is The Well making clean water available to rural communities worldwide, the coffeehouse is also helping individuals, locally, who are helping make those initiatives tangible. Nestled inside the coffeehouse is a board titled, "The Wishing Well." This board allows customers to share specific, personal needs and in return, other customers then have the opportunity to help their neighbors. "We want the community to be engaged in what we do," says Dillingham. "No questions asked, no red tape." Dillingham has heard stories of generous customers donating vehicles and even covering the cost of medical bills for local posters.
The CPT applauds The Well Coffeehouse for their servant attitude and bold mission.