Ethics Matters
March/April 2016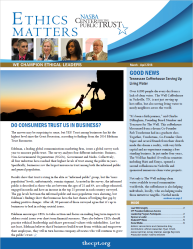 The NASBA Center for the Public Trust (CPT) recently participated in a Service Leadership Program workshop, hosted by the Saint Louis University (SLU) – John Cook School of Business, on February 26. Alfonzo Alexander, CPT President, served as the keynote speaker of the leadership workshop. More than 40 students attended the interactive event where Alexander spoke about ethical leadership. During his presentation, Alexander shared insights on how to recognize ethical dilemmas, how to respond to stressful situations, and how to uphold personal values in the workplace.
Founded in 1996, the SLU Service Leadership Program educates undergraduate business students on the principles of service leadership and encourages students to volunteer with a variety of nonprofit organizations throughout the year. Since the program was founded, more than 100,000 hours of service have been completed.
In addition to volunteer opportunities and leadership workshops, SLU's Service Leadership Program participants must also complete a series of required coursework and learning modules.
To learn more about the program, visit: business.slu.edu. Also, organizations interested in booking Alexander as a guest speaker, are asked to email: info@thecpt.org.