Ethics Matters
January/February 2016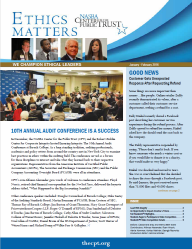 The 2016 Ethics in Action Video Competition is officially underway, and students are using their creativity to produce videos that showcase the importance of ethical decision-making in business.
Over $4,000 in cash prizes will be distributed to eight different winners. Students can create either a 2-4 minute short film or a commercial that is 1 minute or less. Videos can be uploaded to YouTube, Instagram or Vine, and students can paste their video links into the official entry form.
Four winners will be chosen by a panel of expert judges that may include faculty, staff and industry experts, while four different Viewer's Choice winners will be determined by the number of votes each video receives.
The video submission deadline is March 27, 2016. If you are a college student, or know of any college students who may be interested in participating, encourage them to learn more about this competition by visiting the StudentCPT website.