Ethics Matters
January/February 2016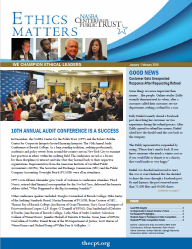 Some things are more important than money…like people. Online retailer Zulily recently demonstrated its values, after a customer called their customer service department, seeking a refund for a coat.
Kelly Kinkel recently shared a Facebook post describing her customer service experience during the refund process. After Zulily agreed to refund her money, Kinkel asked how she should send the coat back to the company.
The Zulily representative responded by saying, "Please don't send it back. If you know someone who needs a winter coat or if you would like to donate it to a charity, that would make us very happy."
Kinkel was shocked and moved to tears. She was so overwhelmed that she decided to share the story through a Facebook post. By mid-January, the post received more than 75,000 likes and 40,000 shares.
After reading through comments from Kinkel's post, other customers shared their own stories of Zulily encouraging them to donate items, rather than returning them to the company.
By responding to this refund request with compassion and generosity, Zulily demonstrated that it values people more than profits.
By engaging their customers and employees in the giving process, Zulily is creating a culture that encourages both internal and external stakeholders to put people first.