Ethics Matters
November/December 2015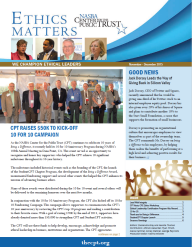 Over 800 students from 20 different universities participated in the Ethical Leadership Certification Program during this fall semester. The six module, online certification program helps college students identify ethical issues, learn how to respond to ethical dilemmas and enhance their ethical decision-making abilities. Students learn these ethical cornerstones through a series of interactive slides, video scenarios, polling questions and comprehensive quizzes. Many professors have adopted this online tool into their class curriculums forgoing traditional textbooks and using the content thought provoking class conversations. Some of the topics covered include: conflict management, ethical organizational cultures and leadership styles.
"The certification talks about how a collaborative leadership style is the best kind of style and I can tie that into the other materials featured in my class," reveals Christophe Van Linden, Assistant Professor of Accounting at Belmont University (Nashville, TN).
If your college or university is interested in the Ethical Leadership Certification Program, please visit the StudentCPT website to check out our demo video. For additional questions, please email info@thecpt.org.