Ethics Matters
November/December 2015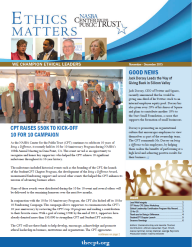 As the NASBA Center for the Public Trust (CPT) continues to celebrate 10 years of Being a Difference, it recently held its 10 for 10 Anniversary Program during NASBA's 108th Annual Meeting in Dana Point, CA. This event served as an opportunity to recognize and honor key supporters who helped the CPT achieve 10 significant milestones throughout its 10-year history.
The milestones included historical events such as the founding of the CPT, the launch of the StudentCPT Chapter Program, the development of the Being a Difference Award, monumental fundraising support and several other events that helped the CPT enhance its mission of advancing business ethics.
Many of these awards were distributed during the 10 for 10 event and several others will be delivered to the remaining honorees over the next few months.
In conjunction with the 10 for 10 Anniversary Program, the CPT also kicked off its 10 for 10 Fundraising Campaign. This campaign allows supporters to commemorate the CPT's 10 year anniversary by reviewing the CPT's top 10 programs and making a contribution to their favorite cause. With a goal of raising $70K by the end of 2015, supporters have already donated more than $50,000 to strengthen CPT and StudentCPT activities.
The CPT will use these funds to help develop, encourage, acknowledge and promote ethical leadership in business, institutions and organizations. The CPT appreciates everyone who makes ethical leadership a priority, either through financial support, volunteering, or simply leading with integrity and being a difference to those in their communities.
Visit this website and StudentCPT.org to learn how you can become involved with the CPT and StudentCPT, or to obtain resources to help you enhance your ethical leadership abilities.