Ethics Matters
September/October 2015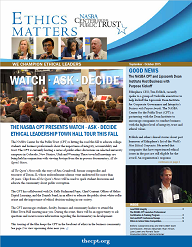 The NASBA Center for the Public Trust (CPT) is hitting the road this fall to educate college students and business professionals about the importance of integrity, accountability and trust. The CPT is currently hosting a series of public ethics discussions on selected university campuses in Colorado, New Mexico, Utah and Wyoming. These town hall meetings are being held in conjunction with viewing footage from the in-process documentary, All the Queen's Horses.
All The Queen's Horses tells the story of Rita Crundwell, former comptroller and treasurer of Dixon, IL whose embezzlement scheme went undetected for more than 20 years. Clips from All the Queen's Horses will be used to spark student discussion and educate the community about public corruption.
The CPT has collaborated with Dr. Kelly Richmond Pope, Chief Content Officer of Helios Digital Learning, and the Daniels Fund, in an effort to educate the public about white-collar crime and the importance of ethical decision-making in our society.
The CPT encourages students, faculty, business and community leaders to attend the Ethics Town Hall meeting near you. During the event, there will be an opportunity to ask questions and receive more information regarding the documentary in development.
This touring of the film keeps the CPT in the forefront of ethics in the business community. Upcoming town hall dates include:
November 5 – Colorado Springs, CO – University of Colorado, Colorado Springs
November 10 – Albuquerque, NM – University of New Mexico
November 18 – Fort Collins, CO – Colorado State University
November 19 – Boulder, CO – University of Colorado Law School