Ethics Matters
September/October 2015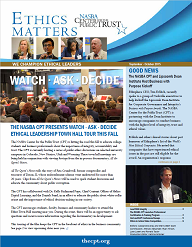 In August 2015, the CPT attended the Beta Alpha Psi (BAP) Annual Meeting in Milwaukee, Wisconsin.
With more than 1,200 attendees, this conference provided the CPT with an opportunity to introduce the Student Ethical Leadership Certification Program to some of the nation's top students and educators.
CPT Operations Manager, Ryan Hirsch, also led an interactive presentation that helped students think through common ethical dilemmas in business, understand the dangers of engaging in misconduct and better understand how ethical leadership styles lead to longlasting careers.
Next, the CPT traveled to Chicago, Illinois to network with professors at the American Accounting Association (AAA) Annual Meeting.
Nearly 4,000 accounting educators attended the conference, where CPT staff shared the benefits of starting StudentCPT chapters and the value of using the Ethical Leadership Certification Program in college courses.
More than 60 professors expressed interest in using the certification program or starting StudentCPT chapters, while several professors have already registered their classes in the certification program for the Fall 2015 semester.
Interested in starting a StudentCPT chapter? Email us at info@thecpt.org.