Ethics Matters
September/October 2015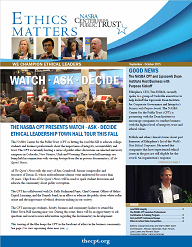 Ethisphere CEO, Tim Erblich, recently spoke to a group of Nashville executives to help kickoff the Lipscomb Dean Institute for Corporate Governance and Integrity's Business with Purpose Awards. The NASBA Center for the Public Trust (CPT) is partnering with the Dean Institute to encourage companies to conduct business with the highest level of integrity, trust and ethical values.
Erblich and others shared stories about past honorees of Ethisphere's list of the World's Most Ethical Companies. He noted that companies that have experienced ethical issues in the past are still eligible for the award. An organization's response to bad behavior often shapes the future of the organization, more than the actual misconduct. It is encouraging to remember that negative cultures can change with proper leadership and training.
The CPT is committed to working alongside the Dean Institute to help winners of Nashville's Business with Purpose Awards go on to compete for the World's Most Ethical Companies competition, while also working with other organizations to help them enhance the ethical cultures within their organizations.