Ethics Matters
July/August 2015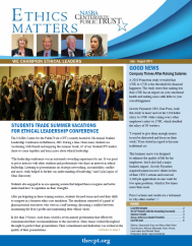 The CPA profession embraces its role as a leader in the area of ethics and integrity with its commitment to protect the public. Recently, the NASBA Center for the Public Trust (CPT) partnered with leading organizations in the CPA community to develop a program to help enhance continuing professional education for CPAs.
By partnering with The Accountants Coalition (Deloitte, EY, KPMG and PwC), Center for Audit Quality, AICPA and NASBA, the CPT raised over $125K to develop and launch its new CPE Resources Program website. Because of these supportive sponsors and their contributions, the website was launched in May through a webinar, introducing the program to representatives from state CPA societies across the nation.
Currently, the resources are offered exclusively to state CPA societies. After two years, resources will be available for other training organizations across other industries for continuing education purposes.
We are excited about this program and grateful to our partners for funding such necessary work. We especially thank CPT Board Member, Joe Petito, for his leadership on this project.