Ethics Matters
July/August 2015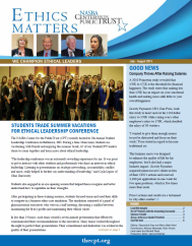 The NASBA Center for the Public Trust (CPT) recently hosted its 5th Annual Student Leadership Conference in Baltimore, MD. During a time when many students are vacationing with friends and enjoying the summer break, 67 of our StudentCPT leaders chose to come together and learn more about ethical leadership.
"The leadership conference was an extremely rewarding experience for me. It was great to get to interact with other students and professionals who share an interest in ethical leadership. Listening to presentations on strategic networking, accountability, conflict and more, really helped to further my understanding of leadership," said Cayla Lepior of Ohio University.
Students also engaged in an eye-opening session that helped them recognize and better understand how to capitalize on their strengths.
After participating in these training sessions, students formed teams and used their skills to compete in a business ethics case simulation. The simulation consisted of a panel of pharmaceutical executives who were in a staff meeting, discussing a conflict between maximizing the firm's profits and maintaining their ethical values.
In less than 24 hours, each team created a seven-minute presentation that effectively communicated their recommendations to the executives. Many teams worked throughout the night to perfect their presentations. Their commitment and dedication was evident in the quality of their presentations.
Students also learned strategies and tips for effective networking. These skills were utilized onsite as each student received customized StudentCPT business cards, which they used to network with NASBA members during networking lunch and dinner sessions.
Before going home, they also engaged in an interactive workshop, designed to share best practices from each StudentCPT chapter, along with strategies for overcoming common challenges amongst chapters.
The CPT staff, board members and NASBA members were impressed by the enthusiasm, professionalism and eagerness to learn displayed by these students. Plans are currently being developed for the 2016 Student Leadership Conference in Denver, CO.