Ethics Matters
January/February 2015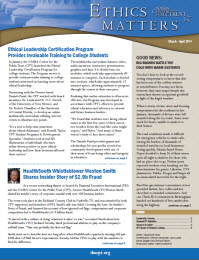 While submissions for the 2015 Ethics in Action Viral Video Competition won't be accepted for another month, three teams have informed the NASBA Center for the Public Trust (CPT) that they have already completed their entries.
Witnessing the excitement of these students is exactly what the CPT envisioned when it developed this program. Videos from last year's competition received over 6,000 views, and the CPT looks to build on that number, as it moves closer to achieving its goal of becoming the largest network of ethical leaders on college campuses.
This year's competition offers more prize money and more opportunities to win. The CPT is challenging students to create a 2-4 minute short film or a commercial that is 1 minute or less. These videos should focus on the importance of ethical behavior in business, and we encourage students to be as creative and original as possible.
Videos can be uploaded to YouTube, Instagram or Vine, and students can paste their video links into the official entry form.
Winners will be chosen among the entries by a panel of expert judges that may include faculty, staff and industry experts. Viewer's Choice winners will be determined by the number of votes each video receives.
If you know college students who may be interested in participating, encourage them to learn more about this competition by visiting the StudentCPT website.