Ethics Matters
January/February 2015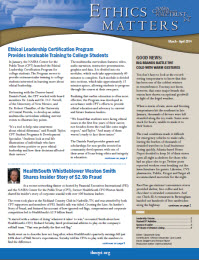 Sir David Tweedie, former chairman of the International Accounting Standards Board, was the keynote speaker at the 9th Annual Auditing Conference presented by Baruch College and the NASBA Center for the Public Trust (CPT) on December 4, 2014.
While a panel of lawyers at the conference observed that the private litigation environment for accountants and auditors is the best it has been in years, two of the attorneys warned that with Securities and Exchange Commission (SEC) Chair Mary Jo White, who took office in 2013, the SEC is focusing on accounting cases. Jordan A. Thomas, a former assistant chief litigation counsel in the SEC's Division of Enforcement, reported there are accountants coming forward under the SEC Whistleblower Program to talk about what they are seeing. He observed, "Now the SEC is aggressively looking at gatekeepers."
David Woodcock, Regional Director of the SEC's Fort Worth Regional Office and Chair of the SEC's Enforcement Division's Financial Reporting and Audit Task Force, stated: "We are trying to be very proactive in identifying accounting fraud." He explained that because the SEC is now able to make more intelligent use of its data, they expect to be able to find errors before restatements are needed. The Whistleblower Program has resulted in many eyeballs looking for problems, he said, and the SEC did pay out $30 million to one whistleblower.
The Robert Zicklin Center of Corporate Integrity at Baruch College has jointly sponsored its Annual Auditing Conference with the CPT since 2007.