Ethics Matters
January/February 2015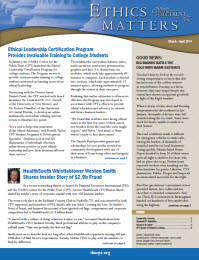 The actions of two unpaid workers at a nursing home was a catalyst to enact California's Residential Care for the Elderly Reform Act of 2014.
Cook, Maurice Rowland, and janitor, Miguel Alvarez, worked at Valley Springs Manor assisted living home in Castro Valley as it was closed by the state in October 2013. With the last paychecks given, all of the other staff cleared out. There was one problem, though. "There were about 16 residents left behind," Rowland recounts.
Despite protocol, the state had failed to relocate the residents before the planned closing. "If we left, they wouldn't have anybody," Alvarez says.
The two men decided to stay until more help came. Adopting a round-the-clock routine, they passed out medication, bathed, and fed the elderly residents for three days—sleeping in two-hour shifts and going home only to shower.
Their exceptionally selfless actions soon received national attention, bringing to light the need for reform and earning them much-deserved commendation.