Ethics Matters
November/December 2014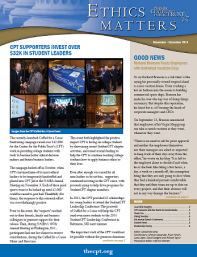 The StudentCPT is proud to announce that it recently kicked off two new chapters at Belmont University in Nashville, TN and the University of Missouri in Columbia, MO.
At Belmont, Cynthia Cooper captivated students by revealing how she led the team that uncovered the $3.8 billion fraud at WorldCom. She helped students understand how challenging it was to blow the whistle on her friends, neighbors and church members. She explained what caused some of these good people to do bad things, while also demonstrating how quickly one unethical decision can spiral into a continuous cycle of misconduct. After the presentation, 13 students joined Belmont's chapter, and several students thanked Ms. Cooper for reminding them to make decisions that align with their values, even when others disagree.
At Mizzou, Alfonzo Alexander spoke to students about the benefits of serving as ethical leaders on campus. During this meeting, Chapter President Jack Buechel also expressed that his involvement in the StudentCPT Leadership Conference led to multiple job interviews. He explained that his focus on ethical leadership guided these discussions and helped him receive offers from multiple companies. Buechel then encouraged other students to join their chapter, which is now 47 members strong.
In addition to these chapter kickoffs, CPT staff also visited several existing chapters to support and enhance their activities. These events included visits to the University of Kentucky, University of Northern Colorado, University of Colorado at Boulder and Lipscomb University. Through these efforts, the StudentCPT continues its commitment to building the largest and most effective network of ethical leaders on college campuses nationwide.