Ethics Matters
November/December 2014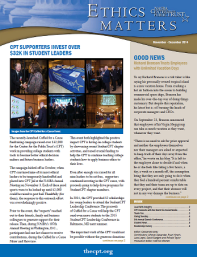 To say Richard Branson is a risk taker is like saying his personally-owned tropical island is a nice vacation home. From crashing a hot air balloon into the ocean to building commercial space ships, Branson has made his over-the-top way of doing things customary. But despite this reputation, his latest bet is still turning the heads of corporate managers and CEOs.
On September 23, Branson announced that employees of his Virgin Megagroup can take as much vacation as they want, whenever they want.
"There is no need to ask for prior approval and neither the employees themselves nor their managers are asked or expected to keep track of their days away from the office," he wrote on his blog. "It is left to the employee alone to decide if and when he or she feels like taking a few hours, a day, a week or a month off, the assumption being that they are only going to do it when they feel a hundred percent comfortable that they and their team are up to date on every project, and that their absence will not in any way damage the business."
Citing the policy of Netflix as his inspiration, Branson quoted from the video streaming company's Reference Guide on our Freedom and Responsibility Culture writing, "We should focus on what people get done, not on how many hours or days worked. Just as we don't have a nine-to-five policy, we don't need a vacation policy."
While productivity and effectiveness of such a policy is debated by some, Branson has already seen a big payoff from this bet—the goodwill of thousands of employees. And if trusting employees with unlimited vacation is like many of the other unconventional business choices Branson has made, it could likely prove to be a smart investment.