Ethics Matters
November/December 2014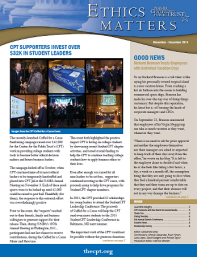 Social media has become one of our nation's leading platforms for communication. CPT leadership and staff would like to extend a special thank you to everyone who is currently following our social media channels. You have provided us with great input to help publish more meaningful material that you truly find useful.
To those of you who are not currently following the CPT on social media, we would like for you to be a part of our social media engagement by following us on Facebook and Twitter.
Here, you will find great information on CPT events and activities along with tips to help you become a better ethical leader. Don't hesitate, go now to our social media channels and help us spread the word of ethics and leadership "LIKE" a wildfire.