Ethics Matters
September/October 2014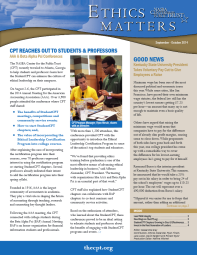 Scholarship Student Certifications at Your Alma Mater
Step 1:
Email Lara Loewl to let her know how many students you want to impact.
Step 2:
CPT will contact your school to inform them of your donation and register students to become certified in ethical leadership.
That's it! Each certification is $39.99 and your school is not required to have a StudentCPT chapter to participate.
> Read about the Ethical Leadership Certification Program