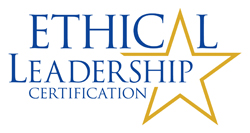 Eleven students in the Monfort College of Business at the University of Northern Colorado earned Ethical Leadership Certification from the NASBA Center for the Public Trust (CPT), a program that UNC plans to incorporate in some of its business college courses.
Garett Lieber, Megan Loberg, Eric Roat, Kelley Robinson, Clay Reierson, Scott Schmaltz, Allison Snatchko, Patrick Sullivan, Jenna Vandenbark, Erika Wesselink and Haley Zink recently completed the program, introduced in January by the Nashville, Tenn.-based CPT, an arm of the National Association of State Boards of Accountancy (NASBA).
Regarded as the first of its kind, the Ethical Leadership Certification Program is designed to creatively teach ethical leadership to students on college campuses across the country.
"It's a tool to help raise awareness about ethical dilemmas," said Ronald Taylor, CPT Student Programs & Development Specialist. "Students look at real life illustrations of individuals who have either shown positive or poor ethical leadership and how their decisions affected their careers."
The multimedia curriculum features video, audio narration, interactive presentations, graphics and data. It is divided into six modules, which each take approximately 60 minutes to complete. Each module is divided into sections, which take approximately 15 minutes apiece, allowing students to progress through the course at their own pace.
Read Full Article
UNC Students Earn National Business Ethics Certification