Ethics Matters
March/April 2014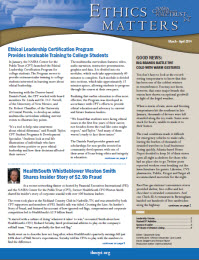 At a recent networking dinner co-hosted by Financial Executives International (FEI) and the NASBA Center for the Public Trust (CPT), former HealthSouth CFO Weston Smith shared his insider's story of corporate scandal with over 100 business leaders.
The event took place at the Richland Country Club in Nashville, TN, and was attended by both CPT supporters and members of FEI. Smith's talk was titled, Crossing the Line: An Insider's Story of Fraud, and featured his account of how ignored red flags, compromises and corporate competition led to HealthSouth's $2.9 billion fraud.
"It started with a culture of doing 'whatever it takes' to win," recounted Smith about how HealthSouth's CEO, Richard Scrushy, hired professional athletes to play on the company's softball team. "That was probably the first red flag."
Smith went on to describe how not long after, when HealthSouth's quarterly earnings fell just $40k short of Wall Street's expectations, Scrushy told his CFOs to play with the numbers to find the difference.
"We told it ourselves how accounting often had gray areas and how $40k was a relatively insignificant amount of money," recounted Smith. "We rationalized it."
From then on, Smith says HealthSouth put out false numbers every quarter to meet Wall Street expectations and the difference soon grew from $40k to millions.
By the time the Sarbanes-Oxley Act (SOX) was passed, a bill that required executives to certify the accuracy of corporate financial statements, billions of dollars of false earnings had been reported by HealthSouth. Rather than signing, Smith tried to quit his job.
Scrushy responded with uncommon kindness. "Richard was like a grandfather all of a sudden. He brought me into his office and we created a plan to stop the lying," shared Smith. "I'm ashamed to say that I agreed and signed SOX."
After a period of honest reporting and subsequent scrutiny from Wall Street and Federal agencies, Smith says Scrushy reneged on his promise and started falsifying profits again. That was when Smith blew the whistle on HealthSouth's $2.9 billion fraud.
"I was scared," Smith said of leaving the meeting with Federal agents. "But there was an even stronger emotion I felt: gratitude. I was just so relieved that the lying was over."
In the following investigation, Smith and four other CFOs admitted to lying and were sentenced to time in prison. Scrushy avoided prosecution by claiming he was unaware of the scandal.
After serving 27 months in prison, Smith now shares his story with sincere apologies for his unethical choices. Earlier in the day, he spoke before several business school classes at Lipscomb University where he implored them to not make even the slightest of compromises to their integrity.
"We never set out to defraud the SEC and Wall Street," Smith said. "No one was like, 'Hey, this would be a good idea…' It happened over time as we lied a little bit more and more and rationalized it every time."