Ethics Matters
March/April 2014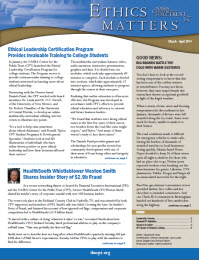 You don't have to look at the record setting temperatures to know that this has been one of the coldest winters in remembrance. You may not know, however, that some major brands this season have shown exceptional goodwill in light of the frigid weather.
When a storm of rain, snow and freezing temperatures hit the southeast in late January, thousands of drivers were left stranded along the icy roads. Some were stuck for hours, unable to make it to their homes.
The road conditions made it difficult for emergency vehicles to make calls, leaving the burden of thousands of stranded travelers to local businesses. Acting quickly, Atlanta-based Home Depot decided to keep 26 of their stores open all night as shelters for those who had no place else to go. Twitter posts reported workers even breaking out the lawn furniture for guests. Likewise, CVS pharmacies, Publix, Kroger and Target all accommodated motorists for the night.
RaceTrac gas stations/convenience stores provided shelter, free coffee and hot chocolate to stranded commuters. And one Chick-fil-A restaurant in Birmingham handed out hundreds of free sandwiches along the highway.
In Montreal, battery manufacturer Duracell chose to create warm moments among strangers by setting up a heated bus stop shelter powered by personal connection. The bus stop's side panels formed two ends of a circuit that could only be connected by human touch. Strangers who opted to hold hands while touching the sides of the bus stop completed the circuit and were rewarded with an activated heater from above.
Whether providing much needed hospitality or reminding us that we have all the power to warm each other's cold day, seeing big brands go above expectations to act with goodwill towards their community is something we can all admire.