Ethics Matters
March/April 2014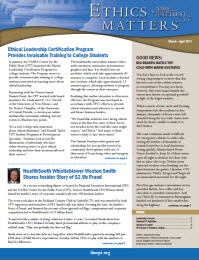 In January, the NASBA Center for the Public Trust (CPT) launched the Ethical Leadership Certification Program for college students. The program serves to provide extracurricular training to college students interested in learning more about ethical leadership.
Partnering with the Denver-based Daniels Fund, the CPT worked with board members Dr. Linda and Dr. O.C. Ferrell, of the University of New Mexico, and Dr. Robert Chandler, of the University of Central Florida, to develop an online multimedia curriculum utilizing current events to illustrate key points.
"It's a tool to help raise awareness about ethical dilemmas," said Ronald Taylor, CPT Student Programs & Development Specialist. "Students look at real life illustrations of individuals who have either shown positive or poor ethical leadership and how their decisions affected their careers."
The multimedia curriculum features video, audio narration, interactive presentations, graphics and data. It is divided into six modules, which each take approximately 60 minutes to complete. Each module is divided into sections, which take approximately 15 minutes apiece, allowing students to progress through the course at their own pace.
Realizing that earlier education is often most effective, the Program was developed in accordance with CPT's efforts to provide ethical education and advocacy to current and future business leaders.
"We found that students were facing ethical issues in the first few years of their career, not decades down the road like some might expect," said Taylor. "And many of them weren't ready to face those issues."
The Daniels Fund provides grants and scholarships for non-profits invested in community development with one of their areas of focus being ethics and integrity in education.
"I think employers will be thrilled to know which students have participated," says Linda Childears, President and CEO of the Daniels Fund. "Daniels Fund is pleased to be involved with this certification program."
Currently, the tuition for the Ethical Leadership Certification Program is $39.99 per student, and all proceeds go to furthering CPT activities. Upon finishing the course and passing an exam, students receive certification in ethical leadership from the CPT. Since launching, over 400 students have enrolled.
For additional information on the Program, contact Lara Loewl at lloewl@nasba.org.